Leopard Webinar Speaker Spotlight: Matthew Pascocello on Creating an Alumni Relations Strategy
October 7, 2021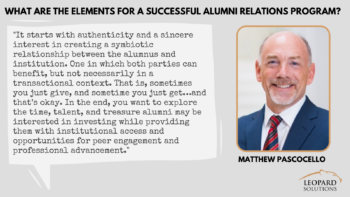 We asked Matthew Pascocello, the Director of Alumni Professional Development and Professor at American University Washington College of Law for his thoughts on how to create a successful alumni relations program and how a law firms can learn from law school alumni relations programs.
Matthew will be speaking on a Leopard Solutions panel on November 3 on exploring the components of a successful alumni relations program and how to implement one at your law firm.
What are the elements for a successful alumni relations program?
It starts with authenticity and a sincere interest in creating a symbiotic relationship between the alumnus and institution. One in which both parties can benefit, but not necessarily in a transactional context. That is, sometimes you just give, and sometime you just get…and that's okay. In the end, you want to explore the time, talent, and treasure alumni may be interested in investing while providing them with institutional access and opportunities for peer engagement and professional advancement.
What can law firms learn from how a law school runs its alumni program?
You need to adopt the mindset that investing in your alumni is a long-term strategy, and that you need to begin cultivating future alumni from the first day they set foot in your law school or firm. If you approach alumni relations as an afterthought, something you do the day after they leave, you have a much lower chance of developing a productive relationship, and it will probably come at a higher cost.
Sign up here for the November 3 webinar on creating a strong alumni relations program.