Leopard Solutions' Data Exclusively Featured in Reuters Article on Large Lawyer Promotion Classes in 2021
November 4, 2021
A whopping 75% of Kirkland & Ellis partners in the U.S. earned their law degrees in the 2000s.
That's more than at any other Am Law 200 firm, where on average, 41% of U.S.-based partners have gotten their J.D.s in the year 2000 or beyond.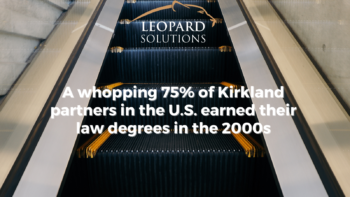 This information is among just some of the interesting revelations about partner classes that Leopard Solutions exclusively provided to Reuters for a feature article.
Per our report, the average Kirkland partner got his or her J.D. in 2005. By comparison, the average Am Law 200 partner finished law school a full decade earlier, in 1995. About 6.5% of current AmLaw 200 partners earned their J.D.s in the 1970s, and 20% did so in the 1980s.
Kirkland has consistently been in the number one spot on our Leopard Law Firm Index for months – a testament to their strength and success in multiple areas.
More than 60% of partners at Kobre & Kim got their law degrees in the 2000s, as did partners at Fish & Richardson, Knobbe Martens, Honigman and Cole, Scott & Kissane.
As the article reports, "At the other end of the spectrum are firms with an outsized share of Baby Boomer partners, including Norton Rose Fulbright, Duane Morris, Davis Wright Tremaine, Blank Rome, Pillsbury Winthrop Shaw Pittman, Steptoe & Johnson, Fox Rothschild and Greenberg Traurig, according to the Leopard numbers."
These firms face a looming challenge in retaining the clients of their senior partners after they retire, but they also see strength in the age range and expertise such seasoned lawyers provide. As for firms with a disproportionate share of more senior partners, it's key to consider what will happen to these lawyers' clients when they eventually retire.
Learn more in this Reuters article by Jenna Greene in which Leopard Solutions' data is exclusively featured.