How Alumni Relations Can Help Your Law Firm
November 4, 2021
A strong alumni relations program at your law firm is a mutually benefical relationship that helps both your law firm and your former employees.
As Stefanie Marrone shared on our recent How to Create a Successful Alumni Relations webinar, alumni relations can help law firms of all sizes with:
Recruiting initiatives – Alumni are an excellent source for identifying and engaging potential recruits. Your alumni are more likely to be considered by prospective employees as a credible source of information about what it's like to work at the firm.

Lateral pipeline activities

Business development

General positive brand building for your law firm

Brand advocates to drive business development and recruiting

Boomerang employees – many alumni return to your firm after going in-house, into public service or discovering the grass isn't greener somewhere else. It's easier to re-onboard than to hire from scratch.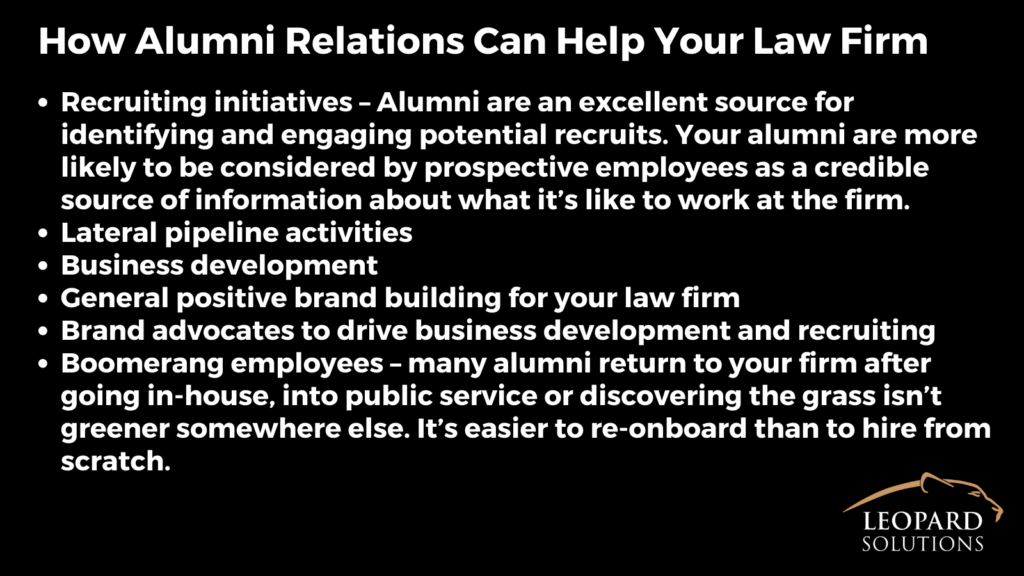 At the heart of your alumni program should be strong, clean data. Learn more about our alumni relations solutions to help law firms of all sizes track their former lawyers.