Law Firm Hiring: How To Hire Ethical Employees
Posted on by Charisse Curiel
How To Hire Ethical Employees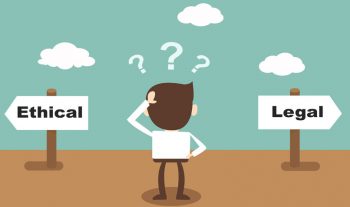 Hiring the right kind of person for your law firm team isn't just about skills and experience, a great chunk of it is about character and ethics. Above all else, you want someone you can trust, who is honest, fair, and easy to work with. How can hiring managers and recruiters find ethical employees?
Understand the difference between ethical and legal and make sure they know the difference too. Ethics are the moral principles that govern your behavior, however, many people struggle with ethicality and legality. Many things are legal such as expressing your feelings or yelling at the top of lungs, but it simply isn't right or ethical to scream out "Fire!" in the middle of a crowded train station. Knowing the difference is important for potential candidates. The best candidates understand the nuances between what is legal and what is ethical and that they are not always mutually exclusive.
Referrals from ethical employees. Ask your employees to refer professionals they trust to your open positions. People who have integrity are more likely to associate with others who have the same level of character. Referrals can become your number one source for quality and ethical associates and support staff.
Ask ethical hypotheticals. During the interview ask the candidate a question that can reveal their level of integrity. You may ask something to the effect of, "If a client overpaid a bill, what do you do?" You want to know if the candidate is willing to gain an advantage at someone else's expense.
Ask about their failures. No one is perfect, and sometimes despite our best efforts losing is inevitable. Ask the candidate about a time when they failed despite their hard work. If you find that they blame others instead of taking responsibility, they probably have very little self-reflection.
Inquire about their success. We know that no one succeeds without help. Ask the candidate about a professional success they are most proud of—if they fail to mention how they were helped by others to achieve the goal, they're probably not the best at team efforts. You don't need people on your team who take all the credit and fail to acknowledge the contributions of others.
Ethical employees can help your law firm cultivate a culture of transparency, honesty, and trust. Subscribe to the Leopard Blog for discussions about ethics, diversity, law firm insights, and other topics relevant to today's law firm.
Leopard Solutions is an online resource for real-time legal data and insights for law firms, corporations, law schools, recruiters, and attorneys. Our suite of data intelligence tools helps you with business development, firmographics, marketing, and data analysis. Our tools are popular with HR teams, talent acquisition/recruiters, business development, sales, and marketing teams.