Hiring & Management: Making Difficult Hiring Decisions
Posted on by Charisse Curiel
Hiring & Management: Making Difficult Hiring Decisions
Managers are people too and sometimes they feel stuck when making hiring decisions. There is a lot of excellent and high-quality talent available for law firms, but all the choices can make it very difficult to make a final hiring decision. This person (or people) will cost the firm in time and money in recruiting fees, bonuses, onboarding, salary, etc. – if the firm is more boutique, these are large expenditures the firm simply cannot take lightly. While there are many tough decisions to make, there are a few strategies for making difficult hiring decisions easier.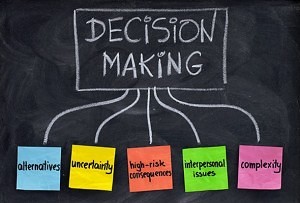 Delegate smaller projects and decisions. When in the middle of hiring associates or support staff for the team, delegate some of the less important decisions to others. Not everything has to be decided by management. This has the added benefit of showing others on the team that you trust them and value their contribution to the firm.

Keep it simple

. Processing too much information on many candidates can overwhelm you and leave you stuck when trying to make a hiring decision. Use this trick: pick only the most critical information to analyze. You might decide that years of experience and practice area expertise are the two most important factors to consider for hiring the role. Specifying the focus areas allows you to zero-in only on those priority data points to help make the decision that best suits your firm.
Think long-term. How will hiring this person [impact] the law firm in three to five years? Thinking about the long-term impact of your hiring decision is important. Three to five years doesn't seem long, but when many associates exit by or before the third or fifth year – the firm really has to consider each candidate carefully. Someone who will bring in a strong profit due to their professional contacts may be more valuable in the long-term than someone who does not have a book of business.
Make decisions as a group. It can be a lot easier to get to a final hiring decision with help. Making hiring decisions as a group helps you get different perspectives while it takes the pressure off individual team members.
Make your difficult hiring decisions easier by implementing the most effective strategy. Subscribe to the Leopard Blog for discussions on management, diversity, law firm insights, and other relevant topics.
Leopard Solutions is an online resource for real-time legal data and insights for law firms, corporations, law schools, recruiters, and attorneys. Our suite of data intelligence tools helps you with business development, firmographics, marketing, and data analysis. Our tools are popular with HR teams, talent acquisition/recruiters, business development, sales, and marketing teams.