Gender Diversity in AmLaw 200 Firms:
Stalled Progress
The Power of Data: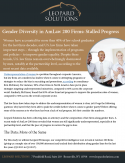 At the end of the day, programs and strategies to reduce gender inequity will lose credibility without solid metrics and concrete results. This white paper presents the data collected by Leopard Solutions and how it can become a powerful tool at several levels:
The data can be used by law firms to establish benchmarks to compare themselves against their peers to see how they stack up with regards to gender representation;
Recruiters can take advantage of the data to place good female candidates in law firms that have achieved a greater representation among their ranks. Data in this case can become an indicator of a firm's culture and commitment to gender diversity; and finally,
The data can also benefit legal departments that are looking to retain the services of law firms that demonstrate a greater level of parity.
Complete and submit the form to read the full article.