Leopard Solutions Shares Best Practices on Searching For and Sourcing Underrepresented Candidates to Mid-Size Law Firms for Diversity Lab
October 12, 2021 @ 2:00 pm
Location: Virtual
Event Type: Webinar
Leopard Solutions' Phil Flora and Laura Leopard presented data on diversity recruiting and retention at a Diversity Lab knowledge sharing call with mid-size Mansfield Rule law firms on October 12.
The call focused on recruiting best practices in the midst of the "Great Resignation" and a significant talent shakeup. Many mid-size firms are losing talent to firms over compensation.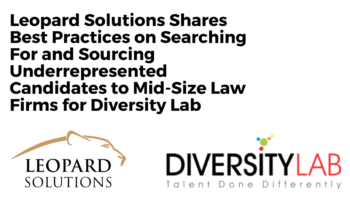 Phil and Laura shared best practices focused on searching for/sourcing underrepresented candidates, how firms can market themselves to candidates beyond offering a high compensation package and provided general thoughts on the state of legal recruiting.
Watch a replay of a recent Leopard webinar on how law firms are doing with regard to diversity today.