Examining the Results of the 2021 Leopard Solutions In-House Counsel Survey: What Do In-House Counsel Really Want From Their Outside Counsel?
October 20, 2021 @ 12:30 pm
Location: Virtual
Event Type: Webinar
Join us for a webinar on October 20 at 12:30pm ET where we will delve into the results of the Leopard Solutions' recent In-House Counsel Survey and explore the most important question for law firms today – what do in-house counsel really want from their outside counsel?
We will cover what clients are looking for in outside counsel today, how clients are making hiring decisions in this current environment, how to ensure client retention, trends on the in-house hiring side, how lawyers can make the jump to an in-house counsel role and the keys for success for being a successful in-house lawyer.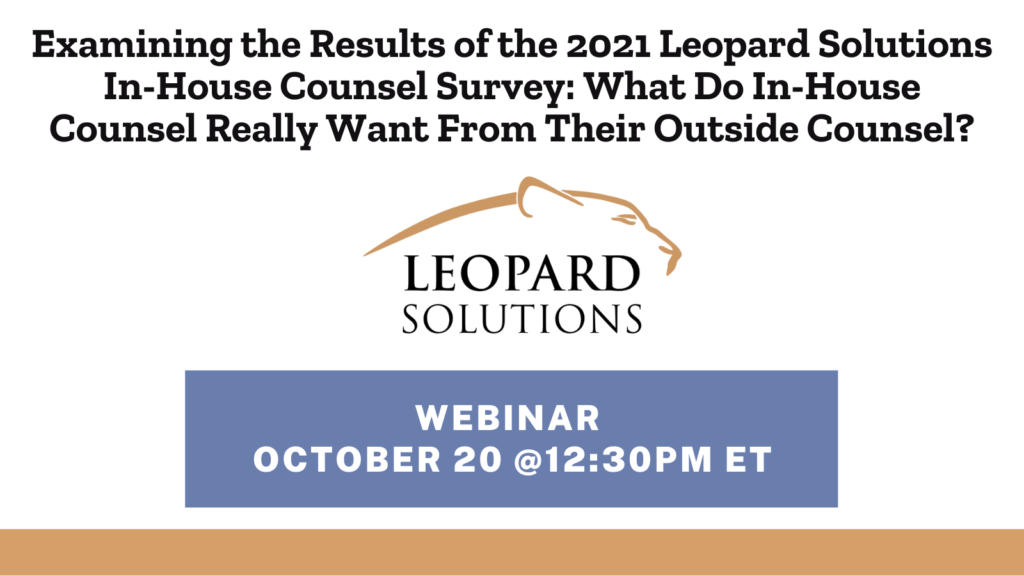 Speakers include:
Dennis Garcia, Assistant General Counsel, Microsoft
Laura Leopard, CEO and Founder, Leopard Solutions
Dimitri Mastrocola, Partner, Major Lindsay & Africa
Matt Siano, General Counsel at Two Sigma Investments
Heather Stevenson, Deputy General Counsel at Boston Globe Media