Never miss a legal job postings update or opportunity again!
Now you can leverage the power of Leopard Job Search right from your Apple or Android smartphone or device.
The new mobile Job App empowers Leopard Job Search subscribers to access, track and respond to the most comprehensive, real-time legal job opening updates in the industry while on-the-go.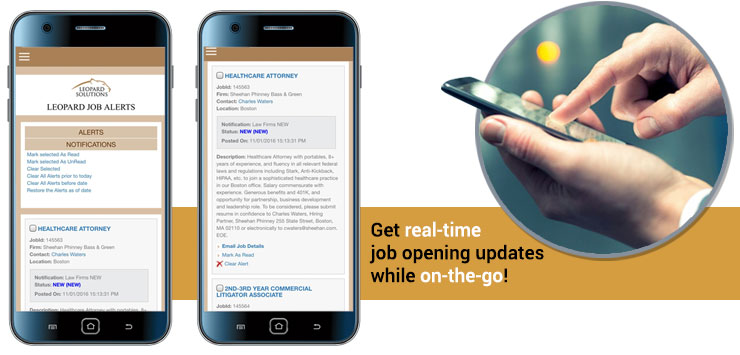 ---
More reliable than email for the delivery of time sensitive legal job posting updates, you get:
Always-on notifications so you can safely leave your desktop and know you'll get the actionable job postings insight you need to act quickly on an opportunity.
Delivery of 'instant alerts' that cannot be delayed by the typical 'message clutter' or technical challenges email servers may encounter.
All opened, modified, and closed job posting updates delivered directly to your mobile device, including notifications of postings
opened to recruiters!
Request a Free Trial Today!
The Only App of It's Kind
Available Exclusively to Subscribers of the Leopard Job Search Platform.
*There is a nominal .99 cent fee to download the Job App from the Apple App Store.