2020 State of the Legal Industry Infographic
It cannot be denied that 2020 was a year unlike any other in the legal market due to the COVID-19 pandemic, which will have a long-lasting impact on the legal
market. Many law firms in the top 200 weathered the pandemic through prudent actions and smart planning – some even used 2020 as an opportunity for
strategic growth. Lessons learned from past downturns helped many law firms respond to near-term challenges and set the right priorities for the future. Was
2020 one of the strongest years for law firms?
Download our infographic.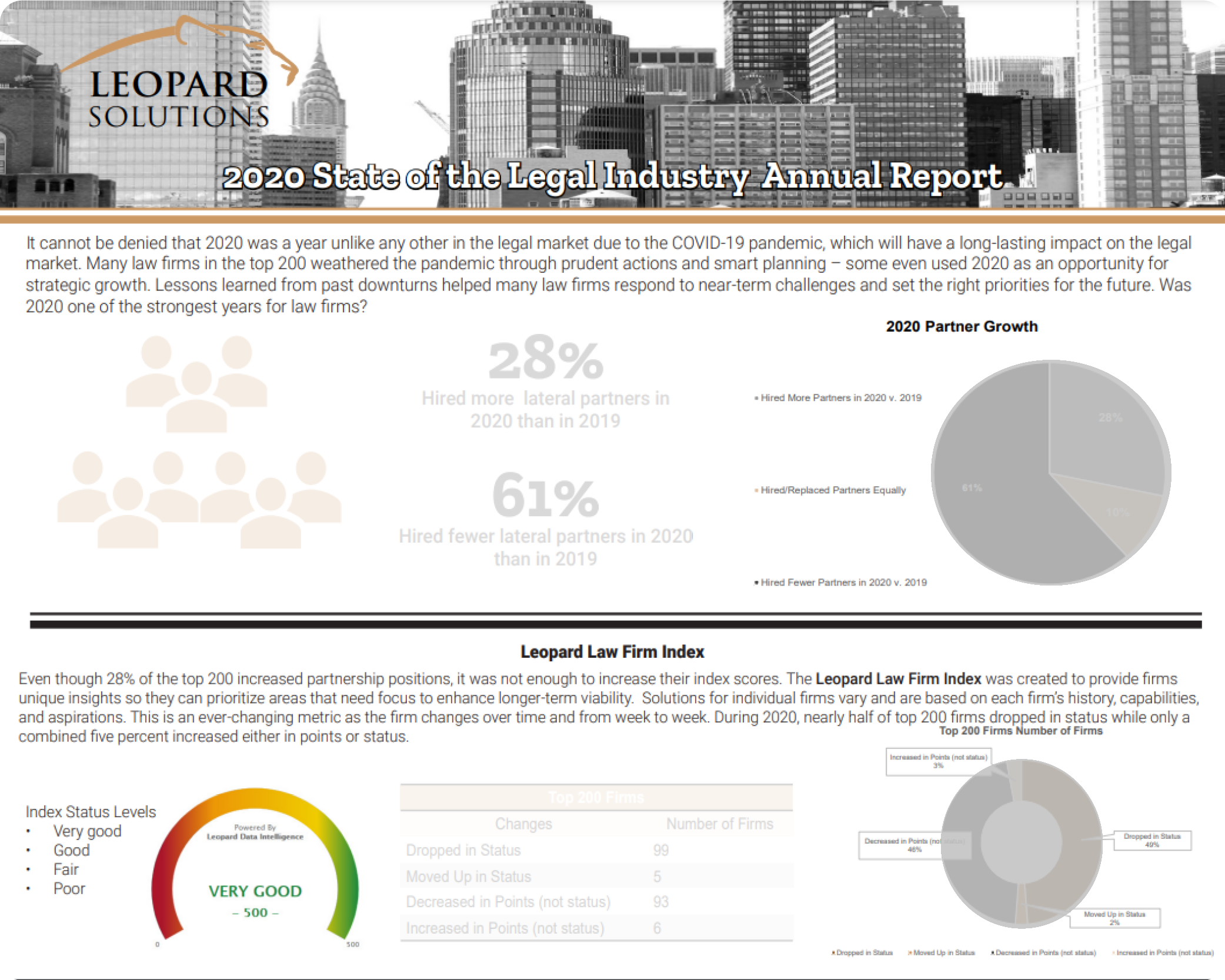 Creating Data-Rich Infographics
To create our infographic, we used data from Firmscape and the Leopard Law Firm Index. 
Leopard Firmscape offers market research and curated reports on all top U.S. and international law firms with the unique ability to drill down to the attorney level for a full 360° overview of any firm and its attorneys.
We believe that the right data can help you have a clear understanding of the current legal market and uncover trends so that you can position your firm, strategize for growth and sharpen your competitive edge by keeping a closer eye on your competition.  Create a successful data-driven narrative that will sway candidates in their final choice.  Knowing where you stand among your peers is essential in the correct positioning of your firm. Firmscape provides essential insight with our vast library of historical firm and attorney data.  Data gives you the insight you need to act.
Firmscape is powerful, informative, and focused. 
Solutions for Law Firms | Solutions for Legal Recruiters | Solutions for Law Schools
Learn What Leopard Can Do For You


< Previous: Beyond PPP | A Current Look at Diversity: Next >